| | |
| --- | --- |
| Aug 15, 2009 | |
| | |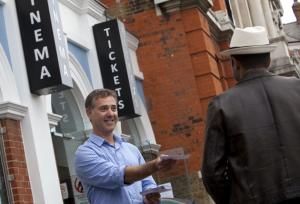 Thanks to the incredible efforts of Helene and her street team (see previous blog), SKIN is being held for a fourth week at the Odeon Panton Street off Leicester Square and they have actually increased the number of showings per day (from two to three daily screenings). You can see for yourselves how the guerrilla marketing techniques work on a new YouTube clip.
Helene and the team also went down to Brixton, at the heart of London's richly diverse African and West-Indian communities, where Helene did her utmost to enthuse the manager of the Ritzy Cinema about booking SKIN. She was put in touch with the company that owns the Ritzy, who'd previously been ambivalent about a booking - and lo - they agreed to a limited run over the weekend (Friday, Monday and Tuesday).
We must do everything possible to support the Ritzy booking - given the demographics, I would love it if we could get a longer run there. The UK's Independent newspaper ran an article about our marketing efforts today. Unfortunately, the article harps on about the lack of distribution when what we really lack is advertising and marketing resources - it also seems to attribute this guerrilla campaign mainly to me, whereas all credit to Helene for really taking the bull by the horns - but the fact remains, we're doing all we can to promote the film - all for one and one for all!
I've just had few thousand copies of Litro magazine dropped off at the Ritzy (as this month's guest editor, I was asked to create a cinema-based issue and - bringing film and literature together - chose to focus on "adaptation"; I also included article about how the script of SKIN was developed); I'm planning to distribute them (along with postcards) as widely as possible.
Anyone who wishes to volunteer to join the campaign - please write to shess@positiveprla.com.
TrackBack URL for this entry
Comments
(0)