| | |
| --- | --- |
| Apr 12, 2009 | |
| | |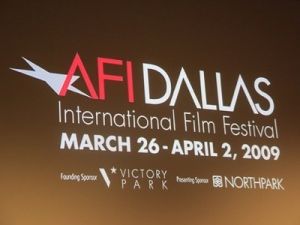 Been rather slow about updating the blog lately. Could all this international travel be getting to me? Just ten days after Hong Kong, I was on another long-haul flight - this time from London to Dallas (my carbon footprint is becoming elephantine this year - but I'd like to think it's in a good cause... isn't that what Al Gore said when promoting 'An Inconvenient Truth'?). Nevertheless, I do believe this trip will prove pivotal in helping SKIN reach a wider public.
Texas is known as the Lone Star State, and Dallas could well be our Lucky Star. Not only did SKIN win the Audience Award (in competition with 177 other films) but the film's reception by the greater community was overwhelming. We are in the process of raising Prints and Advertising funds for our US release and, following SKIN's second screening in Dallas, I had quite a few offers of financial assistance from the city's Great and Good.
The festival has a marvelous set of 'social hosts' - local volunteers who look after the filmmakers. The AFI Dallas Board match-makes volunteers with guests and in SKIN's case, the pairings were heaven-sent. Will Taylor, a wildlife filmmaker from Southern Africa (born in Zimbabwe, later based in South Africa) and his lovely, art-gallery director wife, Brandy Carlson Taylor, threw themselves into their helpful helper roles with complete abandon. Generous back-up was also provided by our co-hosts, Diane and Harold Byrd and the redoubtable Board co-Chairs, Anne and Steven Stodghill. Within hours of meeting Will and Brandy and telling them what Team SKIN might need, they had sorted out the printing of post-cards with screening details (and handed them out with the zealousness of the newly converted), a new red-carpet dress for Alice Krige (created by local designer, Abi Ferrin, featured above), as well as parties, cocktails and dinners to help promote SKIN. (Luckily, when they finally saw the film, they actually liked it too!)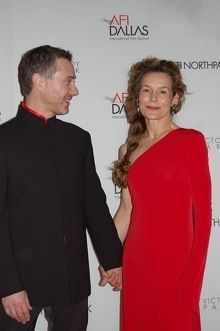 We had the warmest of Texas welcomes throughout our stay and were delighted by this message from James Faust, Director of Programming, on 2nd April (not April fools', am relieved to add):
"Tony,
Numbers just finalized. Congratulations -
You are the 2009 AFI DALLAS Audience Award Winner for Narrative Feature."
My hope, in winning this prize, is that it will validate the reaction of all the good folks who approached us, people who believe the film NEEDS to get out to the public, however blind and foolish Hollywood might be, and have the means to help us realise this dream.
I believe we are very close to making that happen, with a projected release (initially in New York, Chicago and Los Angeles - going wider if the film proves popular) in the summer of 2009. Yes we can - and we will!
TrackBack URL for this entry
Comments
(0)